Trauma-Informed Yoga
for everyone from beginners to advanced yoga students
Ease Your Stress    Build Resilience    Find Contentment 
Transformative practices to help create lasting shifts and stability in your life.


For All Levels: Beginners to Advanced

"🙏🏼 What a beautiful class, Elizabeth! I love your gentle yet powerful teaching style, and your immense wisdom and divine connection are apparent! Sat Nam!🙏🏼"

- Emily White, Owner, Sat Nam Studio


Some of the benefits to the participants:
Calm the nervous system
Create an increased sense of safety in the body, mind, and spirit
Heighten your awareness
Build your intuition
Experience and learn to watch thoughts instead of being identified with and ruled by them
Improve your sleep
Fill yourself with calm, quiet, balance, and contentment
Ease anxiety
Find stability 
These Thursday evening classes are s designed to utilize these components of the practice of yoga as they relate to helping the individual clear chaotic energies and find stability within the brain and nervous system associated with the experience of stress:
Breath
Speech
Sound
Movement
so that we create, embody, and ground ourselves to move with confidence, stability, and ease in life.
Each class will include the following:
Ways to effectively manage stress
Strengthen the nervous system
Build resilience

Yoga movement sequences (kriyas), breathing techniques, meditations, and focused mantra chanting to selectively target releasing unneeded tension in the mind-body-spirit complex.

These are simple yet profound processes to help you release the pressure of life you feel built up inside you. They can shift and uplift your energy, heal past pains, dissolve self-destructive negative thought patterns, and help you find peace.
It's like a reset button for your life.

These practices are simple to follow. That's part of their extraordinary power. 

"This was s great class. Truly you "left no cell behind ".😊 Felt so grounded, calm and relaxed. Thank you!" - BB Lewis
Re-wire Your Experience

The practices and lessons in these classes are designed to help you...
Create positive change, bringing ease and peace into your relationships and your life.
Learn how to manage restlessness.
Move out of suffering and into a thriving life.
Find a path to connect to your true self. 

Reduce your reactivity and increase your ability to respond calmly.
Expand your capacity to live a conscious life.
The suffering we experience lives inside us just as our physical pain does. I have spent years learning, practicing, and incorporating the modalities in these classes. 
I am honored to share my years of experience, training, and personal practice to help you on your own journey to peace, self-acceptance, and empowerment.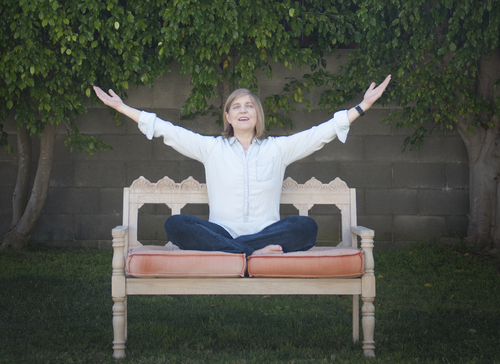 "Elizabeth holds space in the most loving way. Her skill and guidance while holding such a divine space allows her to be a wonderful practitioner. I am deeply grateful for how she has helped me."  - Charan Surdhar, Birmingham, UK

"To my fellow yoga teachers, healers, and friends on a path of self-development: Check out this wonderful 3-hour workshop by my dear mentor and friend Elizabeth Kipp. She is an expert and author on trauma, chronic pain, and recovery. She is a generous and wise teacher who makes these big topics accessible and brings humor and levity to the experience."
- Kirstin Gourlay, Recovery Coach, Owner at RISE Wellness, Phuket, Thailand
"I love getting to participate in Elizabeth's yoga class. I get so much value for my mind, body, and spirit. It is always good!"
- Misti H, Lexington, Kentucky, USA
Thursdays 6-7:30 pm (CST) $15
"Elizabeth provided the safe, sacred space for me to process whatever came up ... uncomfortable feelings, past experiences, uncertainty. She allowed me to move at a pace that was comfortable for me and she honored every step of my healing. Her unconditional presence and reassurance encouraged me to keep healing, keep growing and keep letting go."
Trauma-Informed Yoga Lawrence, KS Online Classes will teach you ways to ground and center yourself so you can face the world with clarity, confidence, and consciousness.
Let yourself be free and unburdened.
I hope that you'll join us.
$15 per class
Trauma-Informed Yoga Online Class 6--7:30pm(CST)